Configure a System
Use this guide to help you develop your own story.
Decide on Your Channel Partner
Dealers provide important integration, financing, and other value added services. Our dealers control the design process and 'own' each unique configuration of our product. This allows our dealers to have a level of containment for their own projects and distribution cycles. End users of equipment should always work through these channel partners to make sure service and replacements are retrofitted to correct specifications.
Finding a New Dealer
We have regional reps that we work with consistently. These existing reps know our product well and can get you up and running quickly. The selection process is direct and simple:
Call our Sales Team: +1 (503) 352-0654 ext. 221

We will provide you with a versed rep that fits your needs
We will then follow up with this rep to make sure you connected and if a new solution is needed
Finding Your Existing Dealer
Loosing track of where our product was purchased does happen. We can help you re-connect the dots. Our service team handles these inquiries daily and this process is direct and simple:
Call our Service Team: +1 (503) 352-0654 ext. 222
Provide a reason for why you want to re-connect with your dealer
Provide a Part Number or Serial Number

We will provide your rep information
We can also open a ticket for repair, replacement, and retrofit if needed

If no Part Number or Serial Number is intact, we can try to use a project name or business name.
Preparation
There are two categories of information that will help you prepare for the quote and configuration processes: What you want to control and how to label it. Use these outlines to help you gather the information you will need in preparation for the quote and configuration processes.
Valve Actuator Type and Other Controlled Items
We have never met a valve actuator we can not control, but it is important to gather specifics about yours. Here is the information we are most interested in:
Output type and count. Common outputs are:

PWM (proportional with specified frequency)
On/Off (bang-bang)
Ratiometric
Voltage Controlled (0-5, 0-10, etc)
Proportional Current (4-20 mA)
Low current EDC (14-85 mA)
N-Channel (grounding output)
H-Bridge (Actuator or small DC motor)
CAN

Auxiliary controlled items

HPU Control
E-Stop and Stop Logic
Lighting, braking, engine interface, and other electronics.

How to power your controlling equipment. This includes the following considerations:

Your battery operated remote will need a power on/off function to control battery usage
Panelized, pendant, and-or tethered only items do not need these extra controls unless it is to control the HPU or other powered systems
How to manage grounding and if you would like additional grounds on the wire harness/receiver output
Power as E-Stop is not recommend but it is practical in some situations
Labeling
When labeling items it is a good idea to use brevity as it will impact controller space. Often controls are grouped together and it is helpful to write these out as such. Here is an example of a simple speed control: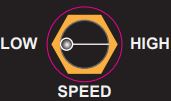 Where 'SPEED' is the group and where 'LOW' and 'HIGH' are the options. Communicate this labeling in this format:
We can then easily configure your system with this type of information and return a worksheet showing the following:

Indicators are useful and often need to be labeled. These can be simple LEDs or more complicated display screens. Most of our systems will have at least a 'STATUS' LED:

Quote
Quoting a system should now be quick and simple now that preparation has been completed. To proceed:
Call and provide our Sales Team with your prepared information: +1 (503) 352-0654 ext. 221

Integrity guides our pricing policies. We will give you a fair price that is mostly based on a component based pricing model
Our pricing will be returned as a quote (to your dealer if you are not one yourself)
We honor our quotes for at least 30 days if not longer
We will contract on these quotes with a provided PO
Covid-19 has impacted supply channels, Force Majeure is in effect on contracted dates.
Contracting
The dealer's purchaser will submit a PO considering the following:
Part Number matching the configure System part or Component part. Component parts have suffix designations:

-T is Transmitter
-R is Receiver
-TETH is Tether
-WH is Wire Harness
-ANT is Antenna
Other designations might be assigned to the system sub-components

Quantity for Purchase and Release Dates on these Quantities. Dates (release / ship) should consider the following:

Dates provided are later than the quoted lead times provided
Dates are renegotiated if the approval of changes or configurations are delayed
Dates are renegotiated if changes affect supplies of parts
Dates are renegotiated if there are delays in dealer supplied parts
Covid-19 has impacted supply channels, Force Majeure is in effect on contracted dates.

Pricing matching the Quoted Price (inaccurate pricing will be referred back to our sales department)
Shipping method

We support UPS and FedEx
Dealer or 3rd party UPS or FedEx account numbers can be used for direct charging
Ship-To address
If the PO data is in agreement, we will issue a SO Acknowledgment to complete this contract agreement.
Configuration
After a PO has been submitted, we will have our configuration manager contact the dealer representative for the configuration process. Expect three phases:
Drafting
Your valve actuators, other controlled items, and labeling information is used by needs our configuration manager will build out the following documents for approval:
CMD16 Configuration: our commander series configuration document has all the information on this system solution including model form-factors, radio frequency, and wiring pin-outs
CMD16 Faceplate: is the faceplate .PDF file that we will print from to make the labeling for your system
Approval
Approval is required for the two documents. Consider the following:
Approval must at least come from the dealer representative but can include other interested parties
Delays in the approval phase will impact lead time and can force us to renegotiate contracting
It is normal for us to move back to the drafting phase multiple times as new ideas and changes are applied
Production Pre-Processing
After approval we take a business day to finalize the system designs and set up for production. Consider the following:
Any last minute changes inside this phase are normal but will send us back to the drafting phase
Changes after this phase will lead to possible delay and restocking fees
Changes
We allow changes to configurations all the time. Here is what to consider:
Changes to active orders can impact your delivery time
With changes to systems that have been ordered before:

If all the affected systems will be sent in, we will ECO the current commander series part number
If the systems will not be sent in, we will iterate design into a new commander series part number

Changes can be handled by our service team: +1 (503) 352-0654 ext. 222
Limited One Year Warranty
Miratron is providing this warranty in lieu of all other express or implied warranties, including any warranty of merchantability or fitness for a particular purpose. This warranty is buyer's exclusive remedy for all claims against Miratron. Miratron shall not be liable for any consequential or incidental damages. Miratron's total liability for all contracts, negligence, or other claims shall be limited to the price paid for its product. Miratron promises buyer that any Miratron product purchased by buyer shall be free from all material defects in design, material, or manufacturing for a period of 1 year from the manufacture date; provided, however, that the warranty shall not extend to ordinary wear and tear or to normally replaceable components (e.g., batteries). During the warranty period, Miratron may repair or replace (at its sole discretion) any product suffering from a warranty defect and returned freight prepaid by buyer, with no charge to buyer for any warranty repair or replacement. The warranty shall remain in full force and effect for such 1 year period, provided that the product: (1) was installed, operated, and maintained properly; (2) has not been abused or misused; and (3) has not been repaired, altered, or modified outside of Miratron's authorized facilities. This warranty provides specific legal rights that may be varied by state law.